Head Coach, University of Texas at San Antonio
A 28-year collegiate coaching veteran, Larry Coker was named the first head coach in UTSA football history on March 6, 2009.
Coker returns to the coaching ranks after spending the previous two seasons as a college football analyst for ESPN.
Prior to that, the Okemah, Okla., native arguably was one of the nation's top head coaches from 2001-06 at the University of Miami (Fla.).
He posted a 60-15 record (.800 winning percentage) in his six seasons, including wins in his first 24 games (first coach since Walter Camp in 1888-89 to do so), and led the Hurricanes to the 2001 National Championship in his first season, becoming just the second coach in NCAA history to do so and first in 53 years.
Coker was a two-time National Coach of the Year (2001-02), American Football Coaches Association (AFCA) Region Coach of the Year (2001, '05) and Big East Coach of the Year (2001-02) honoree.
He led the Hurricanes to a pair of Bowl Championship Series (BCS) title game appearances, three BCS bowl games, a total of six bowl contests overall and three consecutive Big East Conference Championships from 2001-03 during his tenure.
Coker has coached 26 first-team All-Americans and 96 first-team all-conference picks during his career and also mentored 73 student-athletes who earned academic all-conference accolades. In fact, his 2005 team graduated all 21 players, a total higher than any other program in the country, and the Hurricanes' 84-percent graduation rate a year earlier was far higher than the national average. His teams annually were honored for their excellence in the classroom by the AFCA.
Coker has been successful in every stop of his 36-year coaching career, including 22 seasons as an assistant at the collegiate level. He has been on college teams that have made a total of 18 bowl appearances and those squads have been victorious 14 times.
He served as Miami's offensive coordinator and quarterbacks coach from 1995-2000 and the Hurricanes won all four of their bowl games during that time.
Prior to his arrival at Miami, Coker spent two seasons at Ohio State (1993-94) as defensive backs coach. The Buckeyes participated in two bowl games during his tenure and were the 1993 Big Ten Co-Champions.
From 1990-92, he was the offensive coordinator at Oklahoma and the Sooners posted two bowl victories while he was there.
Before heading to Norman, Coker spent seven seasons as the offensive coordinator at Oklahoma State from 1983-89. In his seven seasons with the Cowboys, he coached 1988 Heisman Trophy winner Barry Sanders and the team won four bowl games.
Coker first made the jump to Division I with Tulsa in 1979 as the offensive backfield coach and was promoted to offensive coordinator in 1980 and served in that role for three seasons. The Golden Hurricane won three Missouri Valley Conference Championships during his four-year stay.
He graduated with a bachelor's degree in history from Northeastern (Okla.) State University in 1970 and earned his master's in guidance counseling and physical education three years later from the same school.
Coker and his wife, Dianna, are the parents of a daughter, Lara, and they are the grandparents of twin boys, Daniel and Dillon.
——————————————————————————–
The Larry Coker File
Coaching Experience
Career record: 60-15 (.800)
· 2009-present: UTSA, head coach
· 2001-06: Miami (Fla.), head coach
· 1996-2000: Miami (Fla.), offensive coordinator/quarterbacks
· 1995: Ohio State, quarterbacks
· 1993-94: Ohio State, defensive backs
· 1990-92: Oklahoma, offensive coordinator
· 1983-89: Oklahoma State, offensive coordinator
· 1980-82: Tulsa, offensive coordinator
· 1979: Tulsa, quarterbacks/running backs
· 1977-78: Claremore (Okla.) High School, head coach
· 1971-76: Fairfax (Okla.) High School, head coach
Honors
· 2002 American Football Monthly National Coach of the Year
· 2001 AFCA/National Sportscasters & Sportswriters Association National Coach of the Year
· 2005 AFCA Region 5 Coach of the Year
· 2001 AFCA Region 2 Coach of the Year
· 2001-02 Big East Coach of the Year
· 2002 Eddie Robinson Coach of Distinction
Highlights
· Led Miami (Fla.) to the 2001 BCS National Championship, the first rookie head coach in 53 years and only second ever to lead a team to the title
· First coach since Walter Camp (1888-89) to go undefeated through first 24 games as a head coach
· Has coached 26 first-team All-Americans and 96 first-team all-conference picks
· Also has mentored 73 student-athletes who earned academic all-conference accolades
Playing experience
· 1966-69: Northeastern (Okla.) State, defensive back
Education
· Master's degree in guidance counseling and physical education, Northeastern (Okla.) State, 1973
· Bachelor's degree in history, Northeastern (Okla.) State, 1970
Personal Data
· Wife: Dianna
· Daughter: Lara
· Grandsons: Daniel and Dillon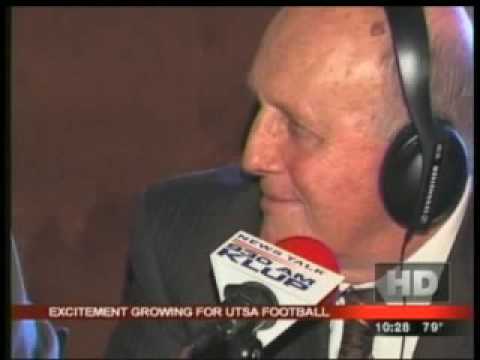 Hosts,
Bjorn Dybdahl of Bjorn's
John Thurman of Heart of Texas Realty